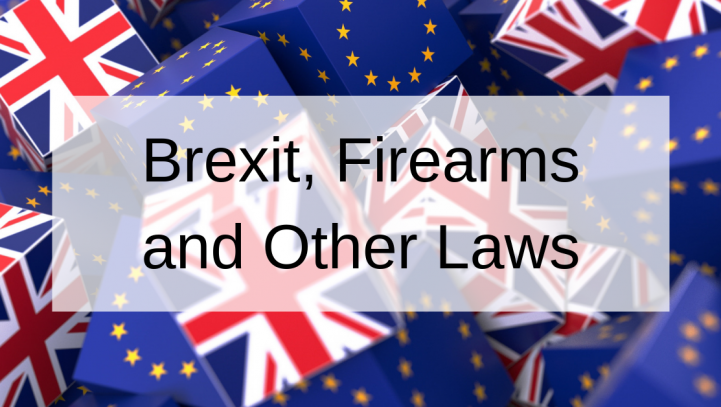 Brexit, Firearms and Other Laws
What Does Brexit Mean for Firearms?
As the government prepares to bring us out of the EU on 31st October 2019, details have begun to emerge as to the legal and regulatory position if we leave without a deal. Some of the first information released relates to firearms, although it regrettably raises more questions than it answers.
Given the importance of complying to the letter with firearms laws both here and abroad, those affected must take steps to keep up to date, and this may involve quite close monitoring over the next few weeks. The same is true in relation to other areas of regulatory and criminal law compliance.
What Is The Current Situation with Firearms?
A UK resident who wants to travel to the EU with their shotgun or a firearm can apply for a European Firearms Pass. This is a licence, or passport, that allows travel between member states, you must also have a licence from the UK to hold the firearm. Depending on the country you are travelling to, there may be other documents required. All weapons have to be declared to customs and also to the travel company you are using for transport.
What Will Change?
If the UK leaves the EU without a deal, you will no longer be able to apply for a European Firearms Pass.
What Will Happen Instead?
You will need to check the firearms licensing requirements of the country, before travelling.
This will also apply if you are in an EU country with the firearm with a European Firearms Pass at the time the UK leaves the EU.
What About Visitors To The UK with Firearms?
If you are sponsoring a visitor from the EU, who wants to bring a firearm to the UK, you need to apply to the local UK police force for a visitor's permit. A permit that is issued before the UK leaves the EU remains valid until it has expired.
Once the UK leaves the EU, the European Firearms Pass will no longer be recognised for EU visitors to the UK. Sponsors of visitors will not need to show a valid Pass.
What Should I Do?
It is not yet known whether the UK will leave the EU without a deal in October. If you intend to travel with your firearm, it is advisable to check the licensing requirements of the country that you are visiting as countries have varying lead times for applying for licences. Without a proper licence, you may not be allowed to travel with your firearm.
If you are concerned with any aspect of regulatory criminal law and Brexit then get in touch for advice on the latest position.
How We Can Assist
If you need specialist advice in relation to any criminal investigation or prosecution, then get in touch with Oliver Gardner on 0161 872 9999 or Oliver.gardner@howardssolicitors.com and let us help. We can advise on all aspects of your case.