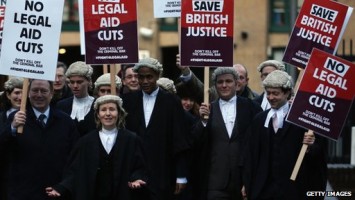 Oliver Gardner BBC Radio Manchester Interview on Legal Aid Cuts
Oliver Gardner, Criminal Lawyer at Howards Solicitors in Manchester is interviewed by Sam Walker on BBC Radio Manchester on 30/06/2015.



The interview is about the strike action by criminal defence lawyers in relation to the cuts in legal aid fees.
Howards Solicitors have offices in Manchester & Macclesfield and specialise in Criminal Defence, Road Traffic / Motoring Offenses & Personal Injury Law.
Details about the author:
Oliver Gardner is a criminal Solicitor and Director at Howards Solicitors with offices inManchester and South Cheshire. Oliver is a committee member of the Criminal Law Solicitors Association and is trained in psychotherapy to level 3.
Contact details:
Manchester Office, Suite 2 East Wing Westpoint, 501 Chester Road, Manchester, M16 9HU
Tel:
+44 161 872 9999
Email: oliver@howardssolicitors.co.uk
Website: www.howardssolicitors.co.uk